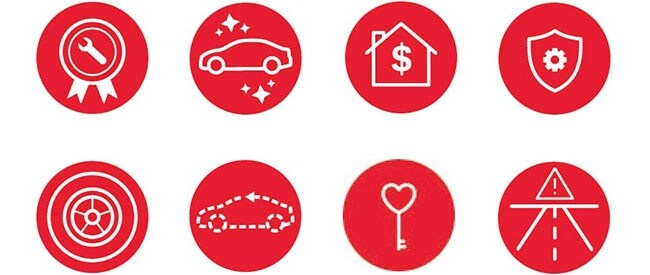 At Maple Honda, we want to help you protect your investment and your new Honda against all unforeseeable and unfortunate events.  In the event of a total loss, Honda Canada has designed the Honda Total Loss Protection Plan.  This warranty covers any deficit between your insurance settlement and the remaining balance of your lease or loan.  Suppose your Honda is ever stolen or declared a total loss after an accident. In that case, Honda Total Loss Protection will make sure you're never out of pocket and back behind the wheel of a new vehicle as quickly as possible.
The Benefits of Honda Total Loss Protection
With Honda Total Loss Protection coverage, numerous benefits will help ease any stresses or concerns in the event of a total loss.  Honda Total Loss Protection could save up to $30,000, including refinanced liability from previous loans, protect your credit rating, and lock in your rate for up to 7 years.  When financing or leasing from Maple Honda, we can adjust your monthly payments to include the cost of this Honda warranty in your finance or lease agreement on vehicles worth up to $150,000.
Other benefits of Honda Total Loss Protection include:
Replacement of your vehicle with a current model
Rental vehicle coverage that picks up where your primary insurer leaves off
The ability to transfer this coverage within the first three years
Deductible coverage up to $500 for a total loss and $250 for a partial loss mitigating the financial impact from an accident, fire or theft.
Ask Maple Honda How You Can Protect Your Honda in Vaughan, Ontario
When you purchase your new Honda from Maple Honda, don't forget to ask our finance experts how you can protect your new vehicle in the event of a complete loss.  Honda's warranty premiums are affordable and beneficial to financial security.  Complete a Finance Application for financing approval on your next Honda purchase, and ask how your Honda warranty can be added to your finance or lease agreement.
For more details about Honda Total Loss Protection in Vaughan, Ontario, or any other Honda warranty and protection plans, contact us.
Make an Inquiry