2021 Honda Civic In Maple, Ontario

2021 Honda Civic Overview
One of the newest and hottest cars for purchase is the 2021 Honda Civic in Maple, Ontario. This vehicle, along with other new Honda models, is available at Maple's preferred dealership, Maple Honda. Check out the 2021 Honda Civic and more, right here, or join us at our location to find your new 2021 Honda Civic alongside other stunning new Honda models in our showroom. Be sure to contact us for more details and to schedule your test drive.
2021 Honda Civic Design
The 2021 Honda Civic has remarkable interior and exterior stylings. The 2021 Honda Civic exterior features C-shaped LED taillights, a sleek profile, and is available in an eye-catching Sport Trim. This sedan has LED headlights to allow drivers to see the road ahead of them, and in case of foggy or rainy weather, the car also features LED fog lights. Additionally, the 2021 Honda Civic is designed to showcase bold body lines. No matter how you look at the vehicle, each angle is pleasing. The car's long wheelbase and sleek profile make the sedan look sportier than other cars on the road. Another cool feature of this car is the moonroof. The moonroof visor lowers wind noise for a more comfortable driving experience.
The 2021 Honda Civic interior is just as sensational as the exterior. The car is spacious and easily fits five passengers for a comfortable ride. The seats fold down in a 60/40 style to allow passengers to be comfortable on the go. The interior features stylish leathering detailing throughout, including leather seats, a leather-wrapped steering wheel, and a leather shift knob. The car also features a design-centric panel with an intuitive display that is easy to read when driving.
Additionally, the 2021 Honda Civic has an electric parking brake button rather than a brake lever. Heated seats are another advantage of this car, especially when driving in the winter. Another great feature is the remote start. If it is freezing cold or sweltering hot, use the remote start to ensure that your car is comfortable right when you enter. When driving in the summer, pop open the moonroof with one-touch for a refreshing breath of fresh air.
2021 Honda Civic Interior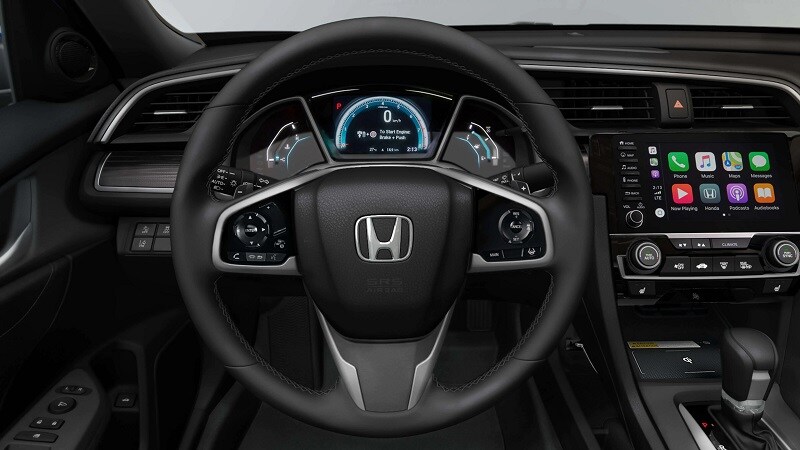 2021 Honda Civic Exterior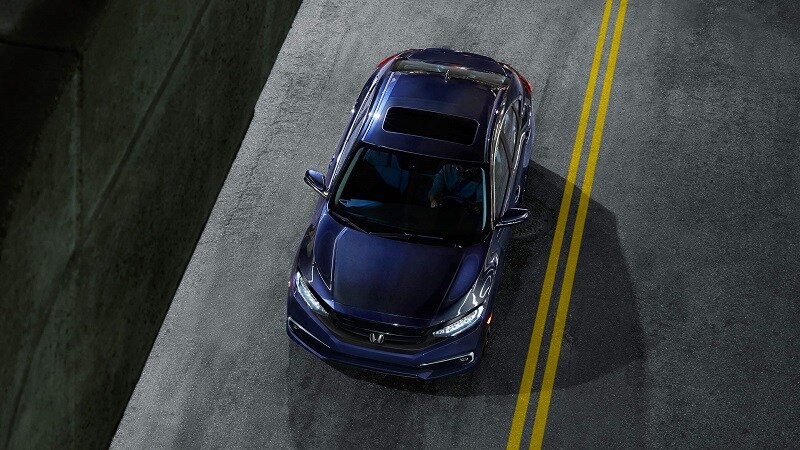 The 2021 Honda Civic Performance & Technology
The 2021 Honda Civic performance is quite impressive. With 174 horsepower and an independent suspension, this car will get you going. The 2L engine is 158 horsepower with 6.1L/100km. This fuel-efficient car is an excellent option for any driver. When the lights turn green, pressing on the gas will become exciting after you get to experience the power behind the 2021 Honda Civic engine. From driving on the interstate to driving around town, the car's performance can make any trip into something extraordinary.
The 2021 Honda Civic technology is impressive as well. The car features Apple Car Play that allows drivers to listen to music, find directions, and send texts or calls through the touch-screen. For Android users, there is Android Audio available as well. The Honda Satellite-Linked Navigation System can take drivers anywhere. Another great feature is HondaLink, an app that allows drivers to start their car remotely, receive vehicle notifications, or schedule service appointments. The newest Civic offers ten speakers throughout the vehicle, making any commute a vibrant and personal entertainment venue.
The 2021 Honda Civic Safety Features
There are numerous 2021 Honda Civic safety features. One of the best safety technologies is Honda Sensing. Honda Sensing provides safety through driver assistance tools. The Collision Mitigation Braking System automatically brings your car to a stop if it senses that an accident is unavoidable. Another safety feature is the Road Departure Mitigation System. If your car starts to change lanes without you signalling, your vehicle automatically adjusts to return to your lane or press on the brakes.
Test Drive The 2021 Honda Civic At Maple Honda
Complete a secure online credit application for financing pre-approval in minutes and assess the value of your trade-in, all from the comfort of your own home. You can also schedule an appointment to test drive the latest Honda Civic in Maple, Ontario. There is no doubt that you will love the 2021 Honda Civic. Contact us if you want to learn more about the 2021 Honda Civic. Yet, if you are looking for a versatile and sporty car, we are confident you will love the 2021 Honda Civic in Maple, Ontario.
2021 Honda Civic Inventory in Etobicoke, Ontario