There are a wide array of daily hazards we encounter every day, so our goal is to get you and your Honda back on the road without delay.
Lease-Guard
Leasing a Honda should be a worry-free experience. At your lease turn-in time, get a peace of mind by not having to deal with the financial responsibility over covering the vehicle's wear and tear costs. Add security to your vehicle with the Honda Lease-Guard and dismiss the stress and costly repairs for stains, dents and dings. Without this protection, you may be held accountable to pay for the repairs or risk losing a portion of your security deposit to pay for these damages.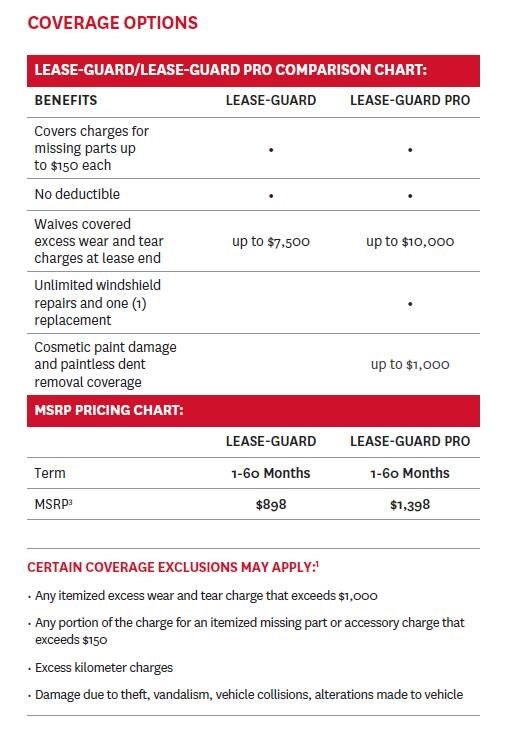 Honda Lease-Guard covers numerous wear and tear items including, but not limited to: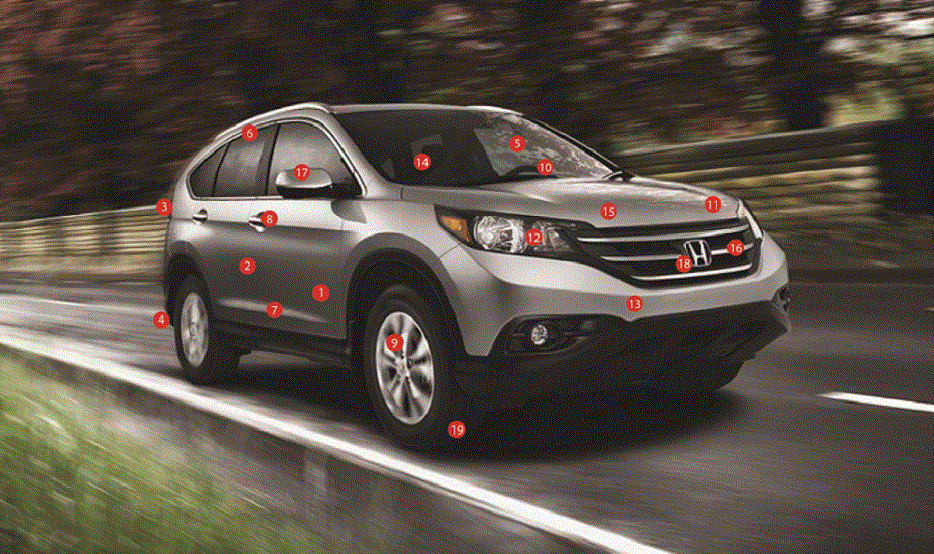 1. Paint damage, exterior surface dents
2. Front and rear door, hatch and tailgate rubber seats
3. Tail, turn signal and brake light bulbs
4. Muffler(s) and tail pipe
5. Front and rear windshield, side glass chips, breakage
6. Convertible and vinyl tops, including trim and mouldings
7. Carpet tears, stains and spotting
8. Door, trunk and hatch handles
9. Alloy and steel wheels and wheel covers
10. Audio equipment, speakers and systems
11. Scratches, chip pits or cracks
12. Lenses of head lamps, running lights and fog lights
13. Bumper(s), bumper covers, step bumpers and surrounding bumper trim
14. Interior upholstery surface rips, tears stains and spotting
15. Discolouration, stone bruises, sand damages and pits
16. Chrome, bright metal, moulding and trim
17. Side and rear view mirrors (glass, surface and mechanical/electrical)
18. Hood ornaments and body insignia
19. Excess tire wear
20. Missing part(s) up to $150 per occurrence
---
Owner Comfort Program

The Honda Plus Owner Comfort Program provides you with years of protection against costly repairs your insurance may not cover. Owning a Honda should be a joyous experience and even though there may be little accidents along the way, we've got you covered. Providing you with the most comprehensive level of protection, we've designed this program with you in mind.
Dent & Ding Protection - Using the paintless dent removal process, minor dents and dings (up to 2" in diameter) will be repaired. Your vehicle's factory finish will always be protected.
Windshield Repair Protection - Minor chips and cracks (up to 2") that occur on the front windshield will be repaired. Any minor cracks or chips that can't be repaired, we will pay up to $500 of your comprehensive vehicle insurance deductible toward the replacement of a new windshield.
Key FOB Replacement - Don't Worry if you lose your key fob or if it's destroyed, bring it home to Honda and we will pay for a replacement and reprogramming.
Rip, Tear & Burn Protection - Minor rips, tears or burns on your vehicle's seats will be repaired.
THE CONVENIENCE ADVANTAGE:

Ideal for both lease and purchase customers

Multiple coverage terms available to suit your ownership needs

Zero deductible

Repairs and replacement can be made at any time during contract term 

Protect your resale value but keeping your Honda in its best condition at all times

Replace your key fob when you lose it. Don't get caught with just one key

Coverage throughout North America

Claims and repairs are made through your Honda dealer



We've got you Covered:

Coverage Type
Amount
Repair Chips & Cracks on Front Windshield
Unlimited
Windshield Replacement Comprehensive Ins. Reimbursement
Up to $500
Key/Remote Replacement
Up to $900 per year
Paintless Dent & Ding Repair
Up to $150 per occurrence
Rips/Tears/Burns
Up to $300 per occurrence